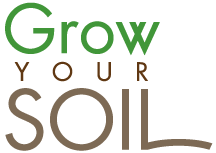 Organic Fertilizer Recommendations
"Why waste money on fertilizers your soil does not need? Why not improve your soil's health by giving it the nutrients it needs, using organic fertilizers and compost that are available to you?
With a Grow Your Soil™ organic fertilizer recommendation, you will be able to add the specific nutrients that your soil and crops need, and avoid adding those nutrients that are not needed. A Grow Your Soil™ organic fertilizer recommendation is simple to understand and allows you to significantly improve your soil with less cost to you."
-John Beeby
John has been passionate about improving soil fertility sustainably for 25 years. After graduating with a Bachelors in microbiology, John realized that he really wanted to learn about soils, and began by joining Ecology Action in 1992. During this time, he published two books - Test Your Soil With Plants and Future Fertility.
He continues to serve as the soil fertility consultant for both Ecology Action and Centro de Biointensivo en Nicaragua (bionica.org). John has also been a reviewer for the Soil Science Society of America journal, and continues to be an associate editor for Renewable Agriculture and Food Systems journal and board member of the Sustainability Fund.
John is the owner and creator of Harvest Planner (harvestplanner.org), an online application to assist farming families in the planning and growing of nutritionally complete diets, and Grow Your Soil (growyoursoil.org), which provides comprehensive and accurate organic fertilizer recommendations for farmers and gardeners around the world.
Grow Your Soil is committed to doing all that it can to facilitate soil improvement throughout the world by ensuring that the organic fertilizers it recommends are both available and affordable to the growers it serves. Since 2012, Grow Your Soil has worked with hundreds of farmers in the US, Canada, Central and South America, Africa and Europe to help find ways to improve their soils under a variety of circumstances.
John is completing his Masters in Soil and Crop Sciences at Cornell University on the ability of biochar to reduce arsenic uptake in rice.
While the future holds immense challenges, optimizing a soil's fertility and enabling it to perform all of its important services at its maximum capacity, including growing food and capturing carbon, is something anyone can do in 2 to 3 years with the desire and a little guidance.