How To Grow More Vegetables is the worlds leading resource on Biointensive, sustainable, high-yield organic gardening.
This book contains all you need to grow all of your own food, using The GROW BIOINTENSIVE Method of mini-farming.
It also contains the "master charts", a comprehensive listing of growing specifications and details for all crops.
The Sustainable Vegetable Garden
John Jeavons and Carol Cox offer a less technical version of HTGMV.
Written for both the beginner and the experienced gardener, this new book shows how to cultivate 11 commonly grown vegetables, calorie crops and compost crops in 100-square-foot plots using organic, soil-enriching methods.
The authors discuss biointensive gardening theory, preparing garden beds, composting, starting seeds, growing crops, and collecting seeds.
They offer detailed instructions and equations showing how to calculate how many seeds to plant to get the necessary seedlings to fill the suggested garden plans and suggest ways to customize garden plots.
While the equations are easy to follow, the calculations and numerous charts may intimidate the beginner, who may also need more information on gardening techniques. Recommended especially for experienced gardeners interested in biointensive gardening.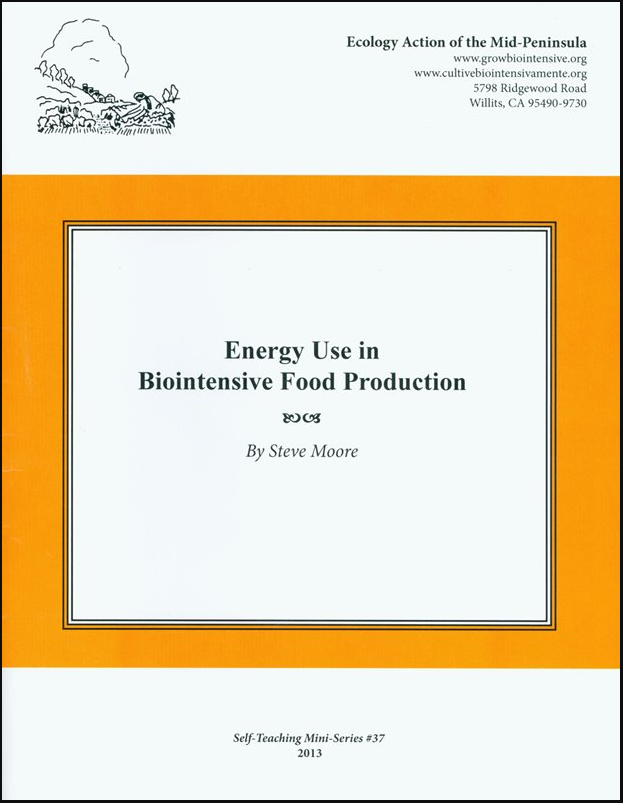 Ecology Action has produced dozens of booklets covering a variety of subjects relating to sustainable farming practices. Please visit Ecology Action's website to explore all of their publications.
The 10th Anniversary Edition of the most comprehensive, up-to-date and thoroughly researched book on the topic of composting human manure available anywhere. It includes a review of the historical, cultural and environmental issues pertaining to "human waste," as well as an in depth look at the potential health risks related to humanure recycling, with clear instructions on how to eliminate those dangers in order to safely convert humanure into garden soil. Written by a humanure composter with over thirty years experience, this classic work now includes illustrated, step-by-step instructions on how to build a "$25 humanure toilet," a chapter on alternative graywater systems, photos of owner-built humanure toilets from around the world, and an overview of commercial composting toilets and systems.
Ecology Action has produced a learning video series on GROW BIOINTENSIVE, available on DVD and on the John Jeavons Youtube page for free. Check it out!
Ecology Action has produced a 10 part video series available for purchase on Vimeo. Over 6 hours of lectures with special guests, a great learning tool for those who want to learn more in depth about GROW BIOINTENSIVE and sustainable agriculture.